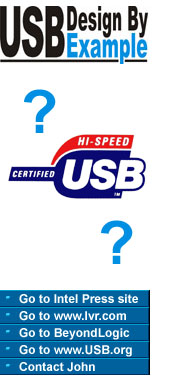 USB web sites
You came here looking for USB design information and that's what you will get!


My contract with Intel Corporation does not allow me to include information on my USB Design By Example books on this site so I must recommend that you visit the Intel site for this information.

Jan Axelson, author of "USB Complete" and several other books, has an excellent USB resource web site at www.lvr.com (now www.janaxelson.com).
I continue to be impressed at how she keeps her site up-to-date and full of useful information and examples.
I highly recommend this site and you should buy her books too!

Craig Peacock has an excellent USB resource web site at www.beyondlogic.org. His "USB in a nutshell" tutorial is very good!

THE reference web site for USB information is www.usb.org. Extensive USB documentation is available in the "Developers" section.

If you get really stuck then you can send me an email but, be warned, I am a busy person and may not be able to respond immediately!



---
(c) 2007-2014 John Hyde, USB Design By Example

Site updated 2 May 2014