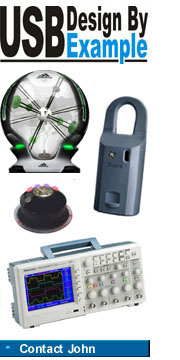 Ideas to Products to Profits
There are many phases of a USB project and I have wide experience in implementing products for small and large companies. I can add value at each stage:
Problem Analysis – first I understand your idea, its application and customer potential. During discussions we evolve it into something better, manufacturable and affordable.
Solution Architecture – of the various ways that the product could be implemented I propose a solution that is lowest risk and cost
Prototype Construction – I work with your team to over-engineer a debuggable solution so that you can experiment and choose product features and options
Production Support – Despite everyone's best efforts there are sometimes product failures on the production floor - I can assist in fault finding and problem resolution.
I am a creative USB Expert and can train you to be a USB Expert.

After architectural definition, most of my work is firmware or PC software using class drivers included with Windows, but I do have colleagues who can design and build prototype hardware if required.

If you are interested in these services please first send an email with a Non Disclosure Agreement.

I am fortunate in that I am able to turn down more work than I can take on, but, if you don't ask, then you will miss the opportunity of a YES.




---
(c) 2007-2014 John Hyde, USB Design By Example

Site updated 11 April 2014